Many of you already know about Schedulista's private services feature. In short, a private service lets you create a separate landing page for an individual service that requires a secret link to access.
Example:
https://www.schedulista.com/schedule/massage/vi846-f4f65
We just made this feature more flexible. Services now have a new option where you can hide the "change service" link on the private service landing page and also hide the "schedule your next appointment online" link in the client confirmation and reminder emails.
Just uncheck the "Show change services link to clients" on the edit service page.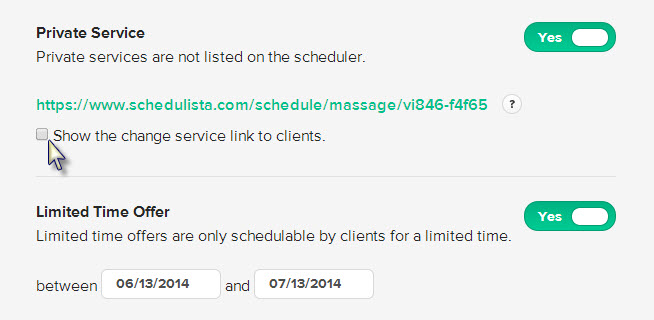 This option is perfect for businesses that might not offer any general services, or might have a specific private offering that they want to have completely isolated from their standard services.
We've improved the URL structure and the new format is more concise:
https://www.schedulista.com/schedule/massage/vi846-f4f65
(Note, we will continue to support the old format for backwards compatibility)