Do you wish that you had more control over when SMS reminders were sent? Do you wish that clients would receive SMS reminders regardless of whether you schedule them or they scheduled themselves? These two were the most requested features on our recent survey.
We listened. You'll be happy to learn that we've made some improvements to text messaging within Schedulista.
(1) Clients can now receive SMS reminders when service providers (e.g. you) schedule them.
(2) Clients will now receive two SMS reminders — a regular reminder, and a last-minute reminder.
Client opt-in
There is a new field on the client record so that you can set whether individual clients receive SMS reminders. The default is to not receive SMS.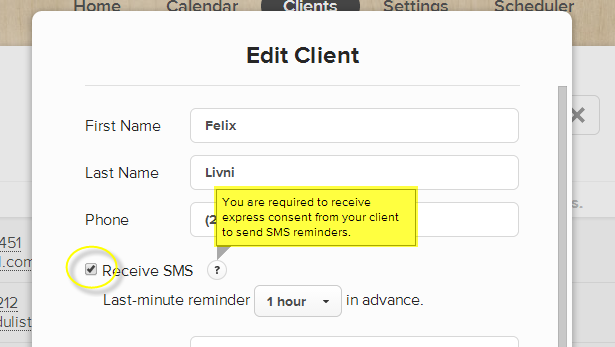 Note: it is important that you received express consent from the client before opting them in to receive SMS reminders.

SMS reminder + SMS last-minute reminder
Clients will now receive a regular SMS reminder along with their standard email reminder. These will be sent at the same time, and will follow the same logic. Note: You can set your reminder policy on the Communications Settings page.
Additionally, clients will receive a "last-minute" SMS reminder either one, two or three hours before the appointment. The number of hours before the appointment that the client will receive the reminder can be customized per client.